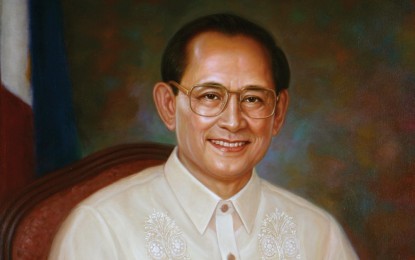 MANILA– The Commission on Higher Education (CHED) recognized on Monday the essential role played by late former president Fidel V. Ramos, especially in championing the prosperity and strengthening of the Association of Southeast Asian Nations (Asean).
In a prerecorded video message during the CHED's kick-off celebration of the 55th Asean founding anniversary, CHED chairperson J. Prospero de Vera III said the late president acted like his father who had championed the regional spirit and cooperation in Southeast Asia.
"One of the ministers who signed the document, the honorable Narciso P. Ramos, from the Philippines, a founding member of the Asean, is the father of Fidel Valdez Ramos, president of the Republic of the Philippines from 1992 to 1998, and one of the champions of Asean cooperation during his time, stressed the importance of regional cooperation time and time again during his incumbency," De Vera said.
He also rallied the leaders of the regional bloc composed of Brunei, Cambodia, Indonesia, Laos, Malaysia, Myanmar, the Philippines, Singapore, Thailand, and Vietnam to "work together and collaborate for the interest of the citizens of the member countries."

"I ask everyone to give a silent prayer to Fidel Valdez Ramos, one of the best leaders of the region, whose untimely passing over the past week, has again required all of us to take a look back and recognized his achievements in regional diplomacy and in championing the Asean spirit," he said.
Meanwhile, De Vera said this month's celebration of the 55th Asean anniversary aims to uphold diversity as a way to overcome challenges and promote prosperity across the region.
"This year's celebration will highlight ideas on how Asean's effort as a unified regional bloc will help member states address opportunities and challenges globally and regionally. This year, we want to focus on how we reimagine and rebuild higher education together, as the restrictions brought about by the Covid-19 pandemic begin to be relaxed," he said.
He added that the higher education institutions have important roles to fulfill, with this year's Asean theme of ACT, or the "Addressing Challenges Together".
"As we continue our efforts to build the Asean awareness in the Philippine higher education sector, it is important to provide all our stakeholders with the various platforms that show what makes us all truly Asean, especially during the pandemic, and after the pandemic," he said.
He noted that "opportunities for all" must be ensured to realize regional growth and stability.
The CHED, meanwhile, prepared a month-long activity for national up to regional higher education institutions to showcase the diversity of Asean culture. (PNA)