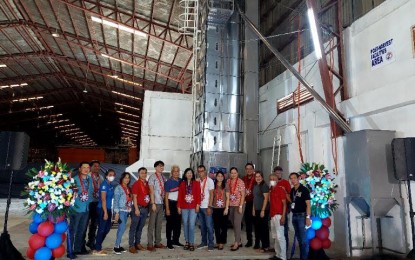 CITY OF MALOLOS, Bulacan – The National Food Authority (NFA) has installed another mechanical palay drier in its warehouse in San Miguel town, this province on Thursday that could help farmers who are harvesting their palay crops this season.
Simeon Sioson, chairperson of the 4 SM Agri Multipurpose Cooperative based in Barangay Lambakin, San Miguel, said on Friday that the additional mechanical palay drier will surely boost the agency's drying capacities in San Miguel, considered the rice granary town of Bulacan, that was badly battered by Super Typhoon Karding last week.
Sioson said the new mechanical palay drier, the third installed in NFA-San Miguel warehouse, can accommodate up to 500,00 bags of the staple grains.
"This will augment the NFA's drying facilities that provide farmers with efficient drying," he said in a statement.
Sioson also said that the NFA has also installed mechanical palay driers this year in its warehouse in the Science City of Muñoz and two in Cabanatuan City, both in Nueva Ecija and one in Tarlac province.
With lack of drying facilities, some farmers were compelled to sell their palay for as low as PHP12 per kilo to local traders, making it hard for them to recover their expenses.
The NFA procures clean and dry palay at government support price of PHP19 per kilo.
Meanwhile, Sioson said that some farmer leaders in Bulacan and Central Luzon are clamoring for the government to increase its palay support buying price from PHP19 per kilo to at least PHP23 per kilo so as to help the farmers defray the rising costs of fertilizers, pesticides and fuel in its rice crop production. (PNA)