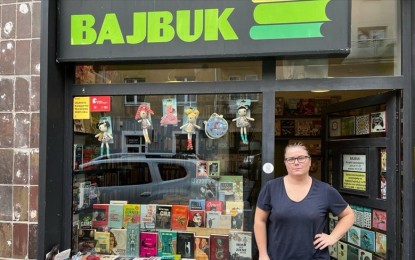 WARSAW – As winter approaches in the eastern European Union member state of Poland, Poles worry about the impact of galloping prices, mainly driven by rising energy bills.
"It's very tough for us at the moment," said Malgorzata, the co-owner of the Bajbuk bookshop in Warsaw's relatively affluent Saska Kepa district.
Its other co-owner, Katarzyna, said prices in the bookstore have gone up 30 percent to 40 percent in the past six months.
"This is due to higher energy bills and paper costs, and people are much more wary of buying," she said. "We don't have fixed retail prices in Poland like they do in Germany, so we have to pass the costs on to customers."
With 17.2 percent inflation, rising interest rates and fiscal and current account deficits, Poland's 650-billion euro (USD655 billion) economy could easily drift into recession, analysts warned.
The central bank's inflation outlook foresees more price growth – fueled by three- to four-fold rises in energy bills – until a peak of about 20 percent year-on-year in February.
Energy caps
Prime Minister Mateusz Morawiecki unveiled a government plan to cap rises in energy prices in September.
The caps on electricity bills will be earmarked for "vulnerable consumers" starting December 1 until the end of 2023.
If annual consumption per household does not exceed 2,000 kilowatt-hours, energy will be set at a guaranteed price, a saving of 150 Polish zlotys (32 euros) per month, Morawiecki said.
In early October, the government introduced a price cap on electricity to protect small businesses, public service entities, and households.
The maximum price of electricity for "vulnerable consumers" and micro, small and medium sized enterprises is 785 zloty (150 euros) per megawatt-hour (MWh).
For households, the price cap is set at 699 zloty (120 euros) per MWh.
The government aims to raise 13.5 billion zlotys (2.9 billion euros) from a windfall tax to fund the cap.
The EU's plans for implementing retail gas price caps at the EU level are supported by Germany, Austria, Hungary, and the Netherlands, which argue that wholesale price caps could cause gas demand to rise and leave countries with a supply shortfall on global markets.
A broader cap system is advocated by Belgium, Greece, Poland, and Italy, which want the system to include gas imports.
The EU price cap will also possibly include joint purchases of gas supplies and automatic solidarity rules to meet shortages.
Difficult domestic decisions
The Polish government faces an election at the latest in 11 months and has been talking about spending decisions, which – critics allege -- will likely help the ruling Law and Justice (PiS) party's electoral base.
The Polish government's loose fiscal policy, analysts said, has a pro-inflationary element and could cancel out the impact of rising interest rates, leaving Poles facing higher mortgages and rising prices.
Since coming to power in 2015, the PiS has introduced various social transfer policies, its flagship being "500+," which gives 500 zlotys (110 euros) per month to families with two or more children.
"My rent is going up 20 percent on Jan. 1, 2023, which will take away about half of the 500+ I get for having two kids," said Klaudyna, a newly unemployed 39-year-old divorcee with nine-year-old twins to support. "It's tough at the moment."
"The situation in Poland is very difficult now, for me. Prices, for example at Lidl (supermarket), have gone up hugely. Not speaking about rent and bills, for example, electricity bills from 70 zlotys (15.50 euros) to 100 zlotys (22 euros). Also, my apartment rent is going up from 2,500 zlotys (520 euros) to 3,000 zlotys (630 euros)," she said.
"That is of course for me a murderous cost. And to get out of this situation, on my earnings, which are 6,000-7,000 zlotys (1,280 euros to 1,320 euros), a month net, I will have to look for a cheaper apartment to live with some dignity in Poland," she added.
Macro issues have big impact
On the macro-scale, rising borrowing costs mean higher interest rates.
At the macro level, there are fears this will be difficult to finance.
The yield on Poland's benchmark 10-year bonds rose last week to more than 9 percent for the first time in two decades.
Analysts from Alior Bank said this is being driven in part by fears Poland will not receive EU funding due to a row over the rule of law, as well as concerns over public spending.
Warsaw's WIG20 stock index is down 38 percent this year and the zloty has weakened 4 percent against the euro and 17 percent to the dollar.
Poverty and rising prices
Those on lower wages, who spend the biggest proportion of their income on food and utility bills, are the worst affected.
Research by Polish economists Michal Brzezinski, Michal Myck, and Mateusz Najsztub indicated that Poland has one of the highest rates of inequality in the EU.
"We have had very regressive tax and transfer regimes. There is much lower redistribution than in Western countries," said Brzezinski.
"Social transfers were changed a bit with the 500+ scheme, but not much. Another reason is the underlying inequality of workers' productivity. Some work in foreign firms, but a large group of low productivity, 10 percent, don't, for example in agriculture."
In 2021, 1.6 million people lived below the subsistence minimum (extreme poverty) in Poland, according to Ryszard Szarfenberg from the Polish Committee of the European Anti-Poverty Network.
Relative poverty – according to the limit of 50 percent of the average expenditure of all households – affects 4.6 million people.
Meanwhile, 246,000 seniors live below the subsistence minimum and are the group that is increasingly applying for food aid.
Strategic energy plans
Poland has shifted quickly to diversify its energy sources away from Russian supplies, opening a gas pipeline from Norway two months ago and building liquefied natural gas (LNG) terminals in northern Poland to take gas from Qatar and the US, among others.
Natural gas is planned to provide a lower-emissions phase from coal to renewable energy, but with Russian energy giant Gazprom threatening to keep restricting exports to Europe, natural gas is no longer an affordable alternative for Polish markets and the Polish government is trying to put together a viable plan B, according to a recent report by Ernst & Young (EY) Poland.
"In the conditions of economic recession and growing energy poverty, there is a risk that the energy transition may be slower or even stop altogether," the report said.
Meanwhile, the report, commissioned by the Polish Electricity Association (PKEE), estimated that transforming Poland's coal sector could cost 135 billion euros by 2030, making coal an expensive option also. (Anadolu)