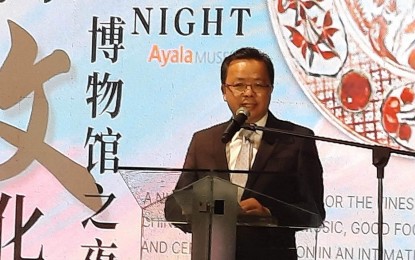 MANILA – China continues to push for more people-to-people and cultural exchanges with the Philippines.
Celebrating the ancient trade ties between the two countries, the Chinese Embassy in Manila held a "museum night" Wednesday, with Ambassador Huang Xilian touring the Ayala Museum exhibit Ceramics and Cultural Currency that features a selection of Chinese wares dating back as far as 11th century.
The collection, the embassy said, is an evidence that maritime trade and exchanges between the two nations had been thriving even in the past.
"Chinese people who chose to come and settle down here in this country through the maritime routes in ancient times and in modern times have made important contributions to the national independence and economic and social developments of this country," Huang said in a speech.
"They have become an inseparable part of the Philippine society, envoys of Chinese culture and bond between China and the Philippines," he added.
Tourism Secretary Christina Frasco, who was also present at the event, said the Department of Tourism supports China's efforts to reintroduce its culture and heritage to the Philippines.
"An appreciation for one's heritage and culture lies at the heart of every successful people and successful country and therefore we share in your efforts to continue to reintroduce the culture of China into the Philippines so we may better appreciate your country and your people," she said.
From these ancient ties, Huang said cooperation and exchanges in various fields, including agriculture and infrastructure, have become even closer.
"We are committed to deepening exchanges and mutual learning with other civilizations and better presenting Chinese culture to the world," he said.
"I believe that people-to-people and cultural exchanges and cooperation between China and the Philippines enjoy a bright future, which will consolidate public support for enduring friendship between our two countries," he added.
In a separate forum Wednesday, former Foreign Affairs Undersecretary Ernesto Abella pointed out that the country has to chart a "long-term strategic engagement" with China given the Asian nation's position as a global economic power.
The Philippines could also take a leaf out of the previous administration's playbook, which is to pursue an "independent foreign policy and proceed as a reliable trading partner" to China, he said. (PNA)