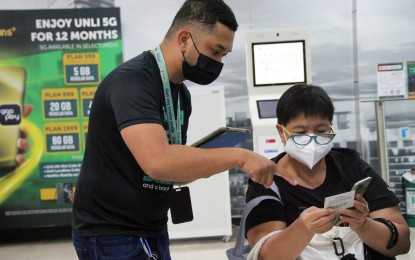 MANILA – Over 10 percent of active mobile users in the country have so far completed the registration of their subscriber identity module (SIM), the Department of Information and Communications Technology (DICT) bared on Thursday.
In a statement, DICT Spokesperson, Undersecretary Anna Mae Yu Lamentillo, said 10.47 percent or 17,698,340 out of 169 million mobile subscribers have so far completed the SIM registration process.
The data, it said, came from the National Telecommunications Commission based on reports submitted Wednesday by the country's three private telecommunications entities (PTEs)—Smart Communications Inc. (Smart), Globe Telecom Inc. (Globe), and Dito Telecommunity Corp. (Dito).
"Smart Communications Inc. reported a total of 8,367,752 SIMs registered, which is 12.31 percent of Smart's 67,995,734 subscribers. Globe Telecom Inc. recorded 7,764,786 SIMs registered — 8.84 percent of its 87,873,936 subscribers. Meanwhile, DITO Telecommunity Corp. reported a total of 1,565,802 SIMs registered, which is 11.95 percent of its 13,108,103 subscribers," Lamentillo said.
She called on the public to have their SIM registered and avoid a last-minute registration to avoid deactivation once the SIM registration process ends on April 26.
"We are also working on the rollout of SIM registration for geographically isolated and disadvantaged areas (GIDAs) so that we can finish all registration within the said period," she said.
Mobile users may register their SIMs online by visiting https://simreg.smart.com.ph/ for Smart users, new.globe.com.ph/simreg for Globe users, and https://digital.dito.ph/pto/download/app for Dito users.
They may also reach out to the DICT for questions about SIM registration or any information technology-related concerns through its hotline 1326. (PNA)