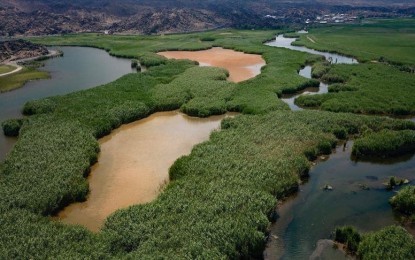 ANKARA – Considered the world's most threatened ecosystems, over 35 percent of the world's wetlands have disappeared in the last 50 years, according to the official website of World Wetlands Day.
The importance of wetlands which are among the world's most productive ecosystems is taking the global spotlight on the occasion of World Wetlands Day.
The awareness campaign organized by the Secretariat of the Ramsar Convention, World Wetlands Day is being celebrated each every Feb. 2 since 1997. The UN General Assembly also designated Feb. 2 as World Wetlands Day in 2021.
The Ramsar Convention, which was signed in Iran's Ramsar city, obliges 170 countries to protect wetlands and ensure their rational management.
There are over 2,400 Ramsar sites across the world. They cover over 2.5 million square kilometers, an area larger than Mexico.
The Cobourg Peninsula in Australia was designated in 1974 as the world's first site and Bolivia has the largest area, with 148,000 square kilometers under Ramsar protection.
The Rio Negro region in Brazil, on the other hand, is seen among the world's largest wetlands, with an area of 120,000 square kilometers.
While Canada, Chad, Congo, and Russia have over 100,000 square kilometers of wetlands in each, Ngiri-Tumba-Maindombe in Congo and Queen Maud Bay in Canada cover an area of 60 thousand square kilometers each.
The countries with the most Ramsar sites are the UK, with 175, and Mexico, with 142.
Ramsar sites in Türkiye under protection
Türkiye became a party to the Ramsar Convention in 1994 for the conservation and wise use of its wetlands.
Sultan Marshes, Seyfe, Burdur, Manyas Lakes, Goksu Delta, Akyakan Lagoon, Kizilirmak Delta, Lake Uluabat, Gediz Delta, Yumurtalik Lagoons, Meke Maar, Kızoren Obruk (Sinkhole), Lake Kuyucuk, Nemrut Caldera were designated as Ramsar Sites and put under protection.
A total of 95 sites covering approximately 10,850 square kilometers, 59 of which are of national and 22 of local importance, are designated as "wetlands."
As part of the Ramsar Convention, the management plans were prepared for 70 wetlands of Türkiye between 1999-2021 and put into practice.
'It's time for Wetlands Restoration'
The reports depict the shocking fact that the wetlands of planet earth are disappearing three times faster than forests.
The International Fund for Agricultural Development (IFAD) stressed that around 87 percent of wetlands have been lost since 1700. It is estimated that at least 64 percent of wetlands have been lost since 1900.
Agricultural drainage, pollution, overfishing, overuse of resources, invasive species, and climate change are among the factors that expedite the loss of wetlands.
In order to reverse the rapid losses, raise national and global awareness regarding wetlands and encourage actions to restore the wetlands, the theme, namely "It's time for Wetlands Restoration," is designated for this year's World Wetlands Day.
Function of wetlands
Although the wetlands cover approximately 6-7 percent of the world's land surface, 40 percent of all plant and animal species live or breed in these areas.
The wetlands also play a very crucial role in climate change through the capture and release of fixed carbon in the air. It is measured that coastal wetlands hold and store carbon 55 times faster than tropical rainforests.
Wetlands have a role in reducing the impact of extraordinary weather events such as floods, droughts, and excessive precipitation. Feeding or balancing groundwater, these areas control floods by storing excess water in heavy rainfall.
Wetlands are important in terms of obtaining drinking water and providing a food supply. While groundwater is thought to provide drinking water for approximately 3 billion people, rice grown in wetlands is the basic food for 3.5 billion people.
In recent years, in which global warming and human destruction have increased, technology is being used and various plans and programs are being carried out for the protection of wetlands, which tend to decrease day by day throughout the world. (Anadolu)