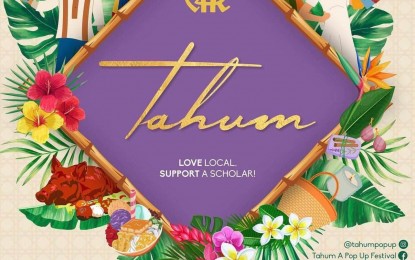 ILOILO CITY – "Tahum," an all Filipino-themed pop-up event, is returning after a three-year hiatus, gathering more than 50 participants from various areas nationwide to raise funds to send less-privileged students in Iloilo to school.
"Tahum is the biggest curated and all-Filipino-themed pop-up event in Visayas with exhibitors from Manila, Cebu, Bacolod, Antique, Capiz, Baguio, and Iloilo," Rara Ganzon, one of the members of the event's working committee, said in a media interview Wednesday afternoon.
Tahum, a Hiligaynon term that means beautiful, gathers a collection of well-chosen and beautiful products, she added.
The event, which will take place at the Iloilo Convention Center on March 3-5, is presented by the Assumption Iloilo Educational Foundation, Inc. and Assumption Iloilo.
It was launched in 2019 but was temporarily put on hold due to the pandemic.
"We want to promote our local products with an international quality but more than that, it's the advocacy because all the exhibitors have really understood why they are there. Because part of their proceeds will really go to the scholarship program," said Sister Aremar Grantos, Assumption school director.
Through the event, free six-year scholarships are offered to financially-challenged students. Currently, it has 18 scholars.
"It's a celebration that we are all here, that we still have this opportunity to continue Tahum. It's something to thank God for," she added.
Product displays center on food, fashion, jewelry, home, lifestyle, and the "Tahum" theme.
Among the exhibitors are micro, small and medium entrepreneurs being supported by the Local Economic Development and Investment Promotion (LEDIP) center of the Iloilo provincial government.
"This is an opportunity for us to expose our microenterprises. We've selected products that will be displayed during the Tahum," LEDIP center chief Aulynn Yue Sin said at the same conference.
The organizers hoped to generate PHP800,000 for the event and 15 percent to 20 percent of the proceeds will go to the scholarship program. (PNA)