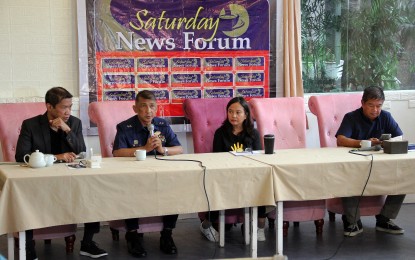 MANILA – Zero waste advocacy group Global Alliance for Incinerator Alternatives (GAIA) stressed the need for the proper implementation of environmental laws to reduce waste.
Miriam Azurin, GAIA deputy director for Asia-Pacific, said the full implementation of laws such as Republic Act (RA) Nos. 9003 or the Ecological Solid Waste Management Act and 11898 or the Extended Producer Responsibility is the solution to waste issues.
"Meron na tayong mga batas (We already have laws), so it's just a matter of implementation and education to the citizens," Azurin said during the Saturday News Forum in Quezon City.
Azurin noted that the proposal to resort to waste-to-energy (WTE) incineration would be a deterrent to the full enactment of RA Nos. 9003 and 11898.
"So, all of these legislations, if there's waste-to-energy, ay hindi po siya magiging (will not be) successful because there will always be a plan to burn those plastics and will encourage plastic production or production of plastic waters kasi kailangan iyon (because that is needed)," she said.
The Department of Environment and Natural Resources (DENR) in 2019 issued guidelines on the establishment and operations of WTE facilities, but environment advocates challenged them before the Supreme Court in 2021.
DENR assured at the time that Administrative Order No. 2019-21 on WTE followed set guidelines and targets for solid waste avoidance and volume reduction through source reduction and waste minimization measures in accordance with ecologically sustainable development practices.
The agency said the guidelines comply with Presidential Decree 1586 (Establishing an Environmental Impact Assessment System); emission standards as contained in RA 8749 (Clean Air Act); effluent standards as contained in RA 9275 (Philippine Clean Water Act of 2004); and regulation on the use and disposal of hazardous substances and waste as stipulated in RA 6969 (Toxic Substances and Hazardous and Nuclear Waste Act of 1990).
Azurin said WTE projects with incineration processes have an adverse impact on health, livelihood and the environment.
She said GAIA intends to hold a day of action against incineration during the Asian Clean Energy Forum (ACEF) at the Asian Development Bank (ADB) headquarters in Mandaluyong City on June 13 to 16 to call for the cessation of support for WTE incineration.
She said this year's ACEF would serve as another venue to promote "false" solutions such as the adoption of WTE technologies.
Azurin also lamented that international financing institutions, such as the ADB, insist that WTE incineration is the single solution to waste and energy problems. (PNA)