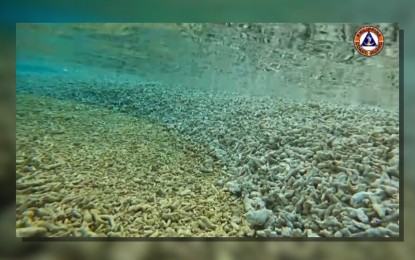 MANILA – The Department of Foreign Affairs (DFA) has raised "serious concern" over reports of coral destruction at the Rozul Reef within the Philippines' exclusive economic zone (EEZ), calling for a halt to activities damaging marine life.
In a statement Monday night, the DFA said the Philippines has consistently raised the alarm over ecologically harmful activities of foreign vessels in the country's maritime zones, an issue extensively discussed in the 2016 Arbitral Award on the South China Sea.
The award was issued by the Hague-based Permanent Court of Arbitration on July 12, 2016, and "authoritatively ruled" that China's claim of historic rights to resources within the nine-dash line had no basis in law. It also upheld the Philippines' sovereign rights and jurisdiction in its EEZ.
"We, therefore, call on everyone concerned to act responsibly and cease all activities that can damage our precious marine environment. The well-being of millions of people who depend on the South China Sea for their livelihood is at stake," the statement read.
Citing results of its underwater surveys, the Philippine Coast Guard (PCG) earlier confirmed the "extensive" damage on the seabed of Rozul Reef and Escoda Shoal, areas frequented by Chinese maritime militia in the West Philippine Sea.
PCG spokesperson for the West Philippine Sea Commodore Jay Tarriela described the marine ecosystem in those areas as "lifeless, with minimal to no signs of life".
A video released by the PCG shows the presence of crushed corals which Tarriela said "strongly suggested a potential act of dumping, possibly involving the same dead corals that were previously processed and cleaned before being returned to the seabed". (PNA)