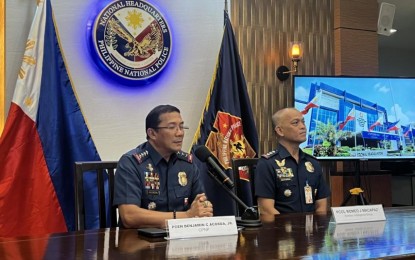 MANILA – Authorities arrested a dismissed police officer wanted for homicide who has been hiding for 28 years during an operation in Rizal province on Tuesday morning.
In a press briefing in Camp Crame, Quezon City, Philippine National Police (PNP) chief Gen. Benjamin Acorda Jr., said Joel Consuelo Villanueva, who held the rank of Senior Police Officer 1 (now Master Sergeant), was arrested by members of the Intelligence Group at 6:30 a.m. at the house of his daughter in a Cainta subdivision.
Acorda said Villanueva had been on the list of the most wanted persons in the country and carried a PHP275,000 bounty.
"He attempted to change his name so we are having a hard time confirming his real name. We are tracking his cases because these were archived for 28 years," Acorda said.
Villanueva, who was previously assigned in Candelaria, Quezon, was dismissed from the service in 1995 after he was convicted for homicide after killing a soldier in 1991.
He escaped from the Lucena City Jail on July 29, 1995.
Although he was recaptured the following year, he once again escaped while undergoing medical examination at the Philippine Orthopedic Hospital in Quezon City.
Female communist leader falls in Taguig
In the same briefing, Acorda also announced the arrest of a high-ranking female officer of the communist New People's Army (NPA) in Taguig City on Monday.
The suspect, only known by the aliases Yvonne, Sam and Ayang, was arrested by the police, military and members of the National Intelligence Coordinating Agency (NICA) in an operation in Barangay Central Signal Village.
She is involved in murder, frustrated murder, attempted murder and theft cases.
The suspect, who carried a PHP280,000 bounty, and holds a prominent position within the NPA's sub-regional military Area 4D, Acorda said. (PNA)