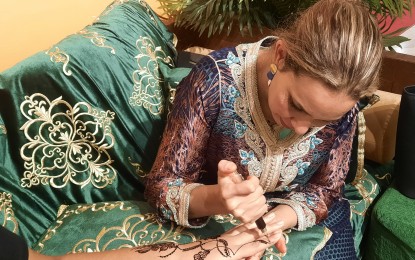 MANILA – Henna tattoo is an ancient tradition that continues to live on in Morocco, often applied to mark significant milestones such as weddings, birth or simply to celebrate Eid (festival).
Its purpose remains but Morocco is also using the practice as a way to introduce its country as a destination that welcomes people to freely bask in their rich culture and arts.
In September, the Moroccan Embassy in Manila brought henna artist Loubna Bedour to the Philippines to share the intricate art of skin staining.
"Henna is a synonym of happiness and joyful moments in Morocco. It's one of the original products that Morocco has and is proud to have because it's something that we use to express our attachment to our culture," Bedour said in an interview with the Philippine News Agency.
"We believe (having henna) is a good sign, it brings luck and positive vibes," she added, while draping henna lines on her client at the Morocco Kingdom of Light Festival held Sept. 19 to Oct. 3 at Rustan's Department Store in Makati City.

Bedour said Moroccan henna is somewhat different from the henna South Asia has.
In terms of design, Moroccan henna has more geometric shapes, bold lines and often features symbols and motifs from Moroccan culture and the Amazigh indigenous tribes.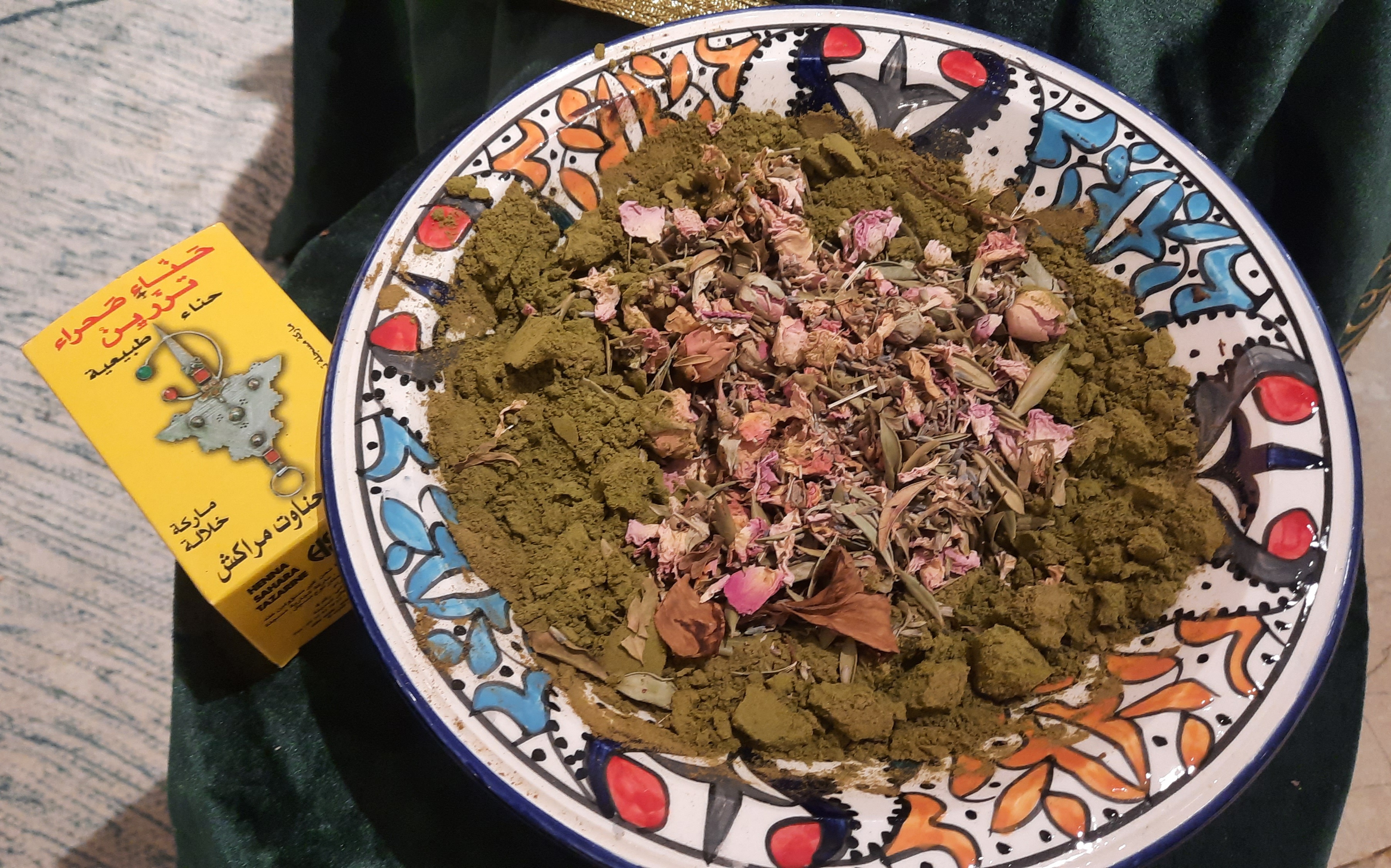 In Morocco, henna designs vary from one city to another, Bedour said. There's a distinct design one can only see in Marrakech and there are also motifs drawn only in Casablanca.
"Each design reflects so many things and traditions from many regions. Through henna tattoo, they illustrate the tradition of each city," she explained.
"There is also a city called Ouarzazate in Morocco it's the place where it comes from -- the original henna in Morocco and people there are deeply attached to henna," she shared.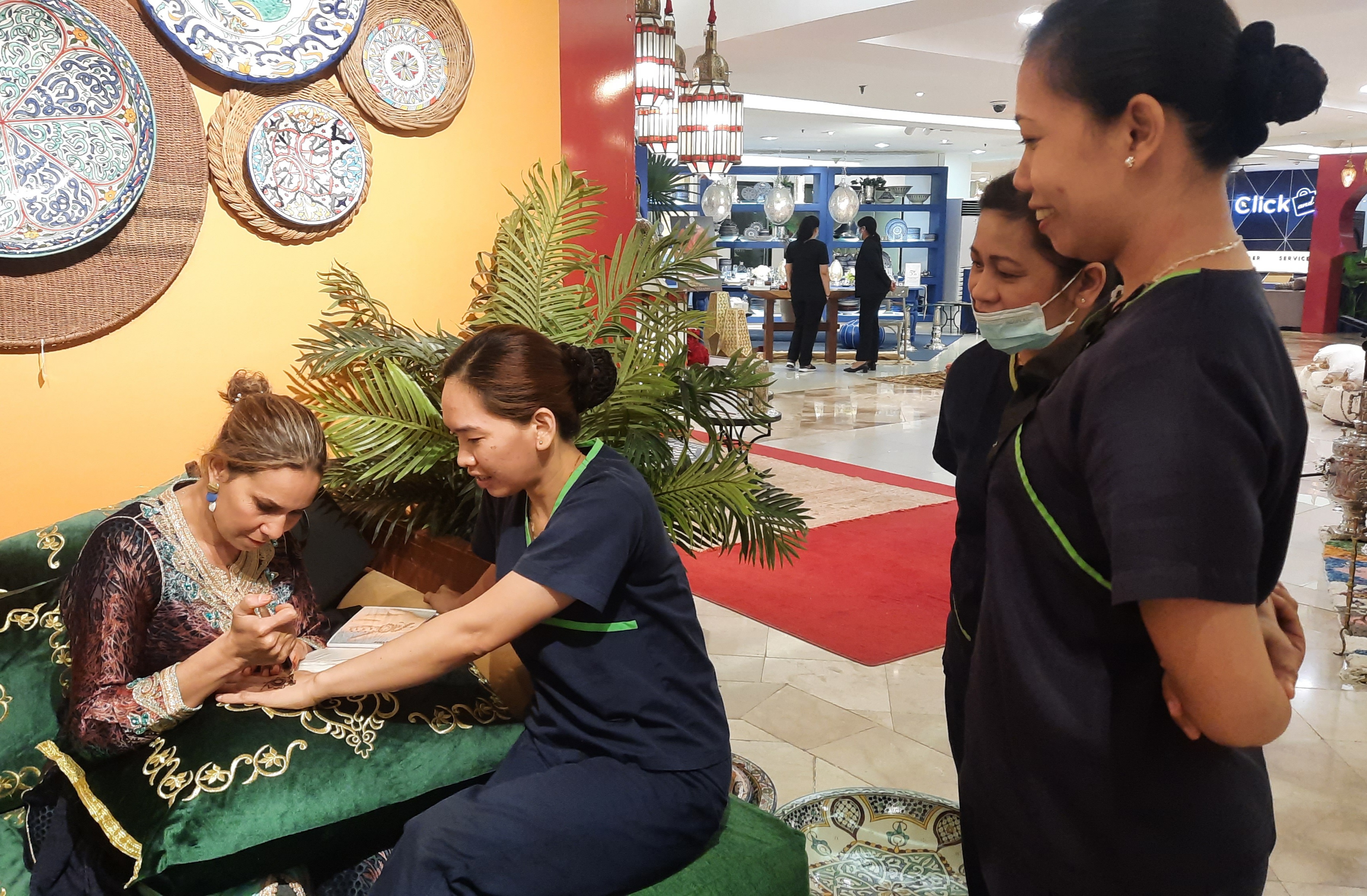 Bedour draws inspiration from symbols that one can usually spot on Moroccan daily life, especially from her hometown Marrakech where culture is heavily influenced by the Amazigh..
In some of her Filipino clients she drew the right eye as a symbol to ward off bad energy or evil intentions or the crowd-favorite Amazigh fibula or triangular brooches worn by Amazigh women.
Bedour enjoyed her stay in the Philippines and hoped she could visit again.
Apart from Bedour, the embassy, Rustan's and Moroccan National Tourism Office also brought a traditional oud (pear-shaped, fretless stinged instrument) player, a Moroccan chef, calligraphy artist Hakim Darari, and other artisans to the September festival. (PNA)