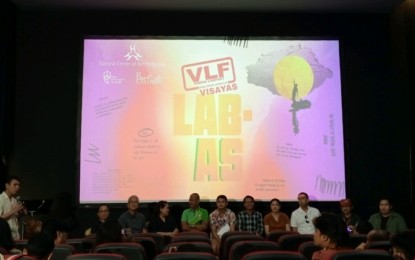 BACOLOD CITY – Seven Hiligaynon one-act plays, written by emerging and veteran Visayan playwrights, are featured in The Virgin Labfest (VLF) Visayas of the Cultural Center of the Philippines (CCP) at The Negros Museum's Blackbox Theater here from Nov. 15 to 18.
Themed "Lab-as," which means "fresh cut and freshly harvested," is the first regional edition of the CCP's annual theater festival in 18 years.
Ariel Yonzon, associate artistic director and head of the CCP Production and Exhibition Department, said that in the Philippines, the theater has a "robust life" as he has witnessed having grown up in the industry.
"Wherever region you go, theater is very much alive – be it in school, be it in the community or the non-government organizations. Whatever the form, the theater is very much alive, it's almost like it's a part of our lives," Yonzon said in a press briefing held at Cinematheque Center Negros on Wednesday.
VLF Visayas festival director Tanya Lopez, a Negrense herself, said that Bacolod City is incredibly fortunate to have been chosen to host the first Visayan edition of the VLF.
"Visayas boasts a vibrant, diverse, and dynamic theater scene, and it's high time that we shine a spotlight on this integral part of our rapidly growing creative industries," she added.
Through the years, the VLF has been showcasing "untried, untested, and unstaged plays" and for the Visayas edition, six are original entries, and one is a revisited play.
The four-day festival commenced on Wednesday afternoon with the revisited play, "Ang Pag-ulianon ni Olivia Mendoza," written by Negrense Rolin Migyuel Obino and directed by Rene Hinojales.
The play first premiered in Filipino as part of the 2019 line-up of VLF in Manila.
The six original Hiligaynon plays are "Sa Likod Sang Masskara" written by Fundador Tipon II and directed by Milton Dionzon; "Ang Sweatshop, Ang Aparador, kag ang Pinakatig-a nga Ismagol sa Bilog nga Kalibutan" written by Jasper Villasis and directed by Rodolfo Reveche; "Dorm 425" written by Venise Buenaflor and directed by Mai Montelibano; "Victim" written by Vicente Garcia Groyon and directed by Jade Snow; "Sin-o Naglansang Kay Kristo" written by Rocky Nicor and directed by Alejandro "Bundo" Deoma; and "Kapoy Nako Mangin Superhero" written by Roger Joshua Venzal and directed by Tanya Lopez.
In Bacolod, organizers have bared plans of restaging the VLF Visayas: Lab-as between December 2023 and March 2024 at the Gallaga Theater of the University of St. La Salle to accommodate a larger audience. (PNA)