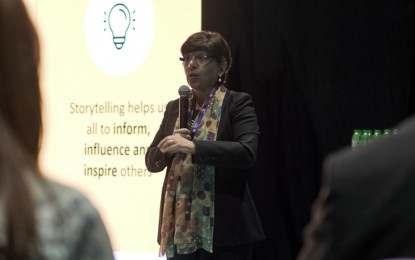 ABU DHABI, United Arab Emirates – The Global Media Congress (GMC) reinforces Abu Dhabi's position as a leading media hub, bringing together policymakers, media personalities, and private as well as state-run news agencies to collaborate, share their best practices, and stay updated with the latest trends in the ever-evolving media industry, the editor-in-chief of CNN Arabic said.
Coupled with the country's favorable policies, regulations, and strong support for the creative industry, the Emirates capital has become a favorite destination for creatives and innovators.
"There is no doubt that the UAE has a large and strong base of Arab, regional, and international media entities, thanks to its advanced digital infrastructure, favorable legislation and regulations, and supportive climate for creative industries, making it one of the fastest-growing media markets globally," Dr. Caroline Faraj, vice president and editor-in-chief of CNN Arabic, said in an interview with the Emirates News Agency (WAM) on Thursday.
"The presence of young people in this important event is an opportunity to train and empower them in the media sector and enhance the role of youth in the future of the media."
The congress features dedicated sessions, such as workshops and activities under the Educate stage, designed for students and young journalists to develop new skills and nurture existing ones.

Youth as most effective storytellers

Meanwhile, during her workshop "Youth and the Power of Storytelling" on Tuesday, Faraj said that, equipped with the right tools and skills, the younger generation could become "the most effective storytellers of our time."
She explained how giving the youth the platform to create and express themselves freely is essential for future journalists or any rising social media personalities to produce their best and "authentic" output.
"The younger generations are the most effective storytellers if we give them space," Faraj said.
She also reminded the audience that the basic foundation of any media story should be the truth.
The workshop session facilitated by Faraj was attended by students and veteran journalists alike. (PNA)