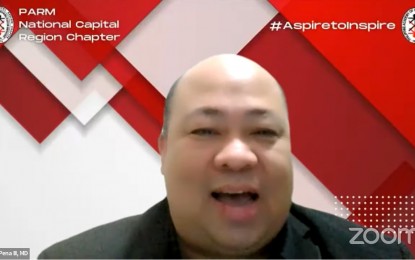 MANILA – Therapy, which is part of rehabilitation medicine, plays an important role in increasing the quality of life of patients suffering from injuries to their musculoskeletal, nervous and cardiopulomonary systems.
Rehabilitation medicine is a branch of medicine that aims to enhance, restore, optimize and prevent loss of functional ability and quality of life to those with physical impairments and disabilities.
In a media forum on Wednesday, Philippine Academy of Rehabilitation Medicine president Dr. Melecio Peña III said injury patients who do not have funds to access the services of a physiatrist may perform home activities or instructions as part of their recovery.
A physician who has completed training in rehabilitation medicine is called physiatrist.
"Kung na-fracture po kayo at hindi niyo po siya mapatingin especially sa physiatrist, na important para maibalik ang near normal, close to 100 percent na maging functional ang tao, pwede po ang home activities (If you've had fracture and you're an unable to get helped by a physiatrist so you can go back to near normal, close to 100 percent being functional, you can engage in home activities)," Peña said.
Ice packs and portable pieces of equipment for exercising the weak part of the body may be purchased and used at home by the patient in addition, he added.
"Nang maibalik yung near normal function at maitaas ang quality of life kase meron siyang (So you can bring back the near normal function and the quality of life is increased because he has) independence, self-esteem, self-worth, the patient will not be anxious, depressed and stressed," he said.
The World Health Organization has promulgated the rehabilitation medicine decade from year 2020 to 2030.
During this decade, countries are encouraged to focus on rehabilitation which also includes prevention, diagnosis and treatment of individuals with physical impairments and disabilities.
Meantime, its distinctive clinical practice includes musculoskeletal medicine, sports medicine, neuro medicine, critical care medicine and pain and interventional medicine.
In the Philippines, National Disability Prevention and Rehabilitation (NDPR) Week is celebrated from July 17 to 23 yearly in hospitals and government institutions.
The celebration starts with National Physiatry Day observed every July 17 as promulgated by Presidential Proclamation 1017 of former President Rodrigo Duterte.
It aims to honor rehabilitation medicine doctors, the physiatrists and teams, which include physical therapists, occupational therapists, speech-language pathologists, orthotists and prosthetists, among others.
Meanwhile, the NDPR Week is observed by virtue of Proclamation No. 1870 issued on June 22, 1979 by President Ferdinand E. Marcos.
It aims to champion persons with disabilities, safeguarding their rights and opportunities toward full participation and engagement in the society. (PNA)