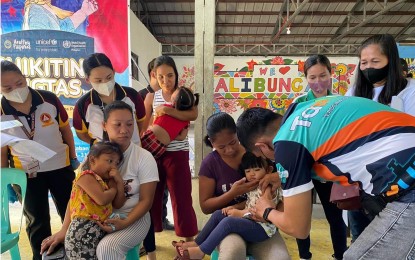 MANILA – Philippine Charity Sweepstakes Office (PCSO) chairperson Junie E. Cua on Wednesday urged local government units to devote a portion of their PCSO shares to help end the spread of vaccine-preventable diseases (VPDs) among children.
"I urge our LGUs to also use your PCSO shares towards immunization so that we can protect the children of our communities from VPDs. Kaya po malawak ang maaaring paggamitan ng shares ninyo upang maituon ang pondo sa mga mahahalagang serbisyo, kagaya ng proteksyon ng mga bata laban sa sakit (That is why the use of your shares is wide-ranging, in order to focus funds on crucial services, like protecting children from diseases)," Cua said in a statement.
The Philippines remains among the top five countries with the greatest number of zero-dose children globally, according to the United Nations Children's Fund (UNICEF) and the World Health Organization (WHO).
The Department of Health said the number of zero-dose or unvaccinated children between 2021 and 2022 had been reduced from around 1 million to 637,000. Vaccine coverage across the country, however, is below 60 percent.
Cua pointed out that LGUs' lotto and Small Town Lottery (STL) proceeds could augment the national government's efforts to achieve the ideal 95 percent vaccine coverage.
"Maaari itong makatulong sa mga (This can augment) parallel and complementary efforts, gaya ng pagsiguro na ang mga nasa (such as ensuring that those in) geographically isolated and disadvantaged areas ay maaabot ng (can be reached by the) immunization drive," he said.
Being on the frontline of service delivery, LGUs could make a great contribution toward achieving the country's immunization target, Cua added.
LGUs receive a share from the PCSO's lotto and STL proceeds, as mandated by Executive Order No. 357-A and the 2020 STL Revised Implementing Rules and Regulations.
Cities and municipalities receive 5 percent, while provinces receive 2 percent of the said proceeds.
The shares can be used for several health and medical needs, including medical/dental missions; medicine donation; hospitalization assistance; procurement of medical supplies/equipment; or milk feeding/nutrition program.
Last year, local governments received nearly PHP1 billion in shares.
Lotto shares amounted to PHP395,224,629, while STL shares amounted to PHP552,948,639, for a total of PHP948,173,268. (PNA)