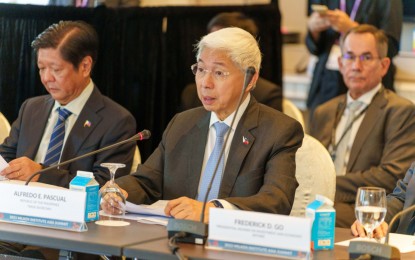 MANILA – Department of Trade and Industry (DTI) Secretary Alfredo Pascual has highlighted the country's strategic investment priorities where Singaporean businesses can explore opportunities.
Pascual made the pitch at the CEO Roundtable co-organized by the Philippine Trade and Investment Center in Singapore and the Milken Institute at the sidelines of the Milken Institute Asia Summit this week, which was also attended by President Ferdinand R. Marcos Jr.
During the discussion, the DTI chief urged Singaporean businesses to explore strategic investment priorities of the government, including renewable energy, infrastructure and digitalization.
"The Philippines always strives to offer a more conducive business environment for foreign investors through responsive policy reforms. We also offer a large domestic market given our large population of 115 million with a growing middle class and a young, dynamic, and skilled workforce," he said in a statement Friday.
Pascual said the Marcos administration has liberalized the country's renewables sector by allowing 100 percent foreign ownership on renewable energy (RE) projects to support the goal of achieving 35 percent RE share in the energy mix by 2030 and 50 percent by 2040.
With this reform, Pascual said the government has approved 126 new RE contracts with a potential capacity of 31,000 megawatts.
He said another promising prospect in the Philippines is in the processing of green metals, which are used for manufacturing of electric vehicles, RE systems and battery technologies.
"Under the leadership of our President, we assure the Singaporean firms of a whole-of-government approach in supporting business operations in the Philippines. The DTI will be steadfast in working with you to ensure the promotion of an enabling and more conducive business environment for foreign investments," he told the business executives. (PNA)