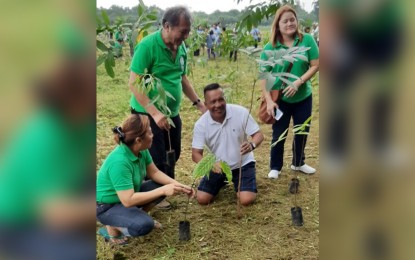 MARIVELES, Bataan -- Residents of an upland village here Wednesday began planting trees as a way of caring for the environment and in line with the "one million trees" program of the provincial government.
Barangay chairman Marcialito Balan of Alion led the tree planting in a two-hectare flat land adjacent to a forested area.
The village head said 1,500 seedlings of the mahogany tree species were planted and more will be planted in the coming days.
"This (is) in line with the program of Governor Albert Garcia, called '1M for 1B or One Million Trees for 1Bataan', which is included in the launch of (the) "One Bataan Seal of Healthy Barangay'," Balan said.
Participants included employees of the barangay, municipal and provincial governments and members of the Philippine National Police, Philippine Army, associations in the village, and various organizations, such as the Lion's Club of Mariveles and Balanga City and Knights of Columbus.
Others who joined were teachers and students of the elementary and high school in Alion, student-cadets of the Maritime Academy of Asia and the Pacific, and representatives of other sectors.
Garcia launched the incentive-based program "One Bataan Seal of Healthy Barangay" to encourage village leaders to plant more trees, as well as to eradicate drugs, measles, dengue and death from dog bites and giving birth, or maternal death.
A monthly cash award of PHP50,000 awaits those among the province's 237 barangays that will be able to attain zero case of dengue, drugs, maternal death, and death from rabies, and plant the most number of trees. (PNA)