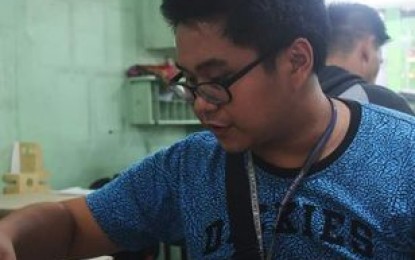 BAGUIO CITY – One of the country's top young Scrabble players in cooperation with Mattel and the world's top player are combining forces to stage a youth online Scrabble tournament this October.
Learjet de la Cruz of the Cebu Scrabble Club, who saw action in the World Youth Scrabble Championship last year, is jointly hosting the national competition sometime in October.
In his social media post, De la Cruz said he will be partnering with Malaysian Ganesh Asirvatham, the world's top-rated player, and Mattel, Inc., for the youth games on a date yet unspecified next month.
Mattel is one of the owners of the popular board game. Produced in England, it is distributed worldwide except in the United States and Canada, where Hasbro is the owner.
Mattel is also the owner of the Barbie line of dolls, while Hasbro caters to boys with Transformers and GI Joe as its premier line of toys.
"Since the pandemic has paralyzed us to hold in-person tournaments, we are bringing our most beloved game online, specifically targeting the youth sector," de la Cruz said.
"The goal is for the sport to be introduced to the young ones not only for nationwide propagation but essentially for its survival in our country as well," he added.
The Inter-school National Scrabble Tournament-Philippines will target 50-100 complete beginners to the game, ages 10-12.
De la Cruz said they are targeting 13-20 schools nationwide with two to four players each. The games will be staged using the Internet Scrabble Club (ISC) and will be done in two days, one for the qualifying round and another for the final round.
He said that Ganesh, with his assistance, will be holding a two-hour online lesson for the kids, teachers and parents via Zoom, prior to the tournament date and resources will be given along the way.
In Baguio, the first to reach out to De la Cruz is the Saint Louis University Laboratory Elementary School (SLU-LES) which has been competing in the Milo Scrabble Games.
A student division was supposedly incorporated in the Panagbenga Scrabble Tournament last March, but the tournament was canceled due to the coronavirus disease 2019 (Covid-19) pandemic. (PNA)