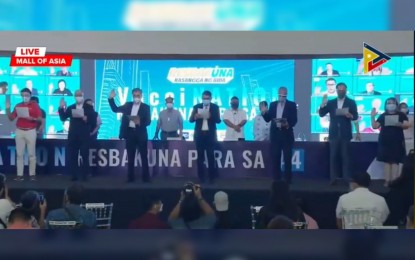 MANILA – Department of Trade and Industry (DTI) Secretary Ramon Lopez said the start of vaccination for the A4 group will boost the country's inoculation program and economic recovery.
During the ceremonial vaccination for A4 group in Pasay City Monday, Lopez thanked the Inter-Agency Task Force for the Management of Emerging Infectious Diseases (IATF) for expanding the definition of A4 priority group to include "almost all" workers.
"We are really giving support to the backbone of our economy, our workers. So this is really a shot in the arm to the economic front-liners, a shot in the arm to our economy. And this is really what we need as we are trying to continuously reopen," Lopez said.
Following the vaccination of healthcare workers, senior citizens, and those with comorbidities, economic front-liners can now get the jab against the coronavirus disease 2019 (Covid-19).
The expanded list in the fourth priority group has included self-employed individuals, house helpers, and business process outsourcing workers, among others, who work outside their homes.
Lopez added that as vaccines provide protection and lower the risk of getting severe Covid-19 cases and death, the inoculation for the A4 group will boost confidence to reopen the economy.
"And with that, we will confidently reopen towards that path, and that's the path towards recovery. And now we're seeing such recovery, we will see more and better signs of that recovery moving forward," the DTI chief said.
Process simplified
To fast-track, the inoculation process, National Task Force Against Covid-19 (NTF) deputy chief implementer Vivencio Dizon said the process for the vaccination of A4 should be simplified.
In the same event, Dizon said the IATF no longer added definitions for those who qualified for vaccination under the A4 list and it will also not ask for additional requirements for this priority group.
"As long as they go outside of their residences to work and they are willing to get vaccinated (they will get the jab)," he added.
Working with private sector
SM Supermalls president Steven Tan said the company stands ready to work with the government for the rollout of the Covid-19 vaccine by allowing SM malls to be used as vaccination sites.
As of June 5, Tan said 50 SM malls are being used as vaccination sites with over 250,000 individuals inoculated inside SM malls and 61,000 completed the two doses of Covid-19 vaccine.
NTF chief implementer Carlito Galvez Jr. said vaccine orders from the private sector will start to arrive by June 30 kicking off with the arrival of the 250,000 doses of Moderna vaccine. (PNA)