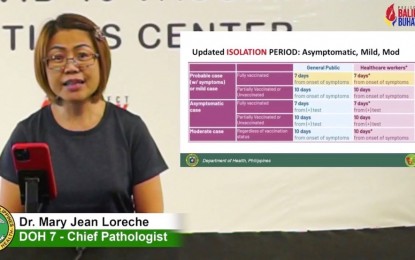 CEBU CITY – Amid a surge in coronavirus disease 2019 (Covid-19) cases in Central Visayas, residents here who are asymptomatic or have mild to moderate symptoms are advised to stay at home, especially if they are fully vaccinated or have received the booster jab.
Department of Health (DOH)-Region 7 chief pathologist Dr. Mary Jean Loreche said in a presser on Monday that patients who have no severe symptoms or are not critically ill are encouraged to isolate themselves at home.
"If you are asymptomatic, close contact, probable or confirmed case, but you are fully vaccinated or had your booster shots, stay at home. If ever you have symptoms like cough, colds, and you know that you are a close contact or confirmed case, no problem, stay at home," Loreche said.
Unvaccinated patients, or with comorbidities like hypertension, diabetes, chronic kidney disease, cancer, and autoimmune disease or undergoing steroid therapy must seek consultation either through phone or visit the barangay health center for medical advice to see if they are qualified for home isolation, she said.
Loreche said people who have Covid-19 symptoms and suffering from diseases but have not received the vaccine should seek advice from their doctors whether they are allowed to isolate themselves at home or need close attention at medical facilities.
"Those who have comorbidities who have not received a single dose of Covid-19 vaccine, you must not decide to stay at home for isolation because having yourself checked, you will be properly guided and it will save your life," she stressed.
Surge in cases
Loreche discussed the guidance on home isolation as Covid-19 cases in Central Visayas increased rapidly in the first 15 days of January, with the regionally tally of active infections pegged at 5,741, from 522 on New Year's Day.
Of the number, 967 are considered new cases discovered over the weekend.
The City of Cebu topped the three highly urbanized cities with the most cases at 2,546 or 44 percent of the region's total Covid-19 cases, followed by Cebu province that has 1,319.
The neighboring cities of Mandaue and Lapu-Lapu listed 525 and 553 total active cases, respectively.
The other Central Visayas provinces' caseload: Bohol, 408; Negros Oriental, 385; and Siquijor, 5.
The DOH-7 Sunday bulletin reported zero deaths due to Covid-19. However, on Saturday, the DOH-7 reported one casualty due to Covid-19 in Cebu province.
Since January 10, the province of Negros Oriental has recorded 33 deaths due to Covid-19 and nine in Bohol.
Low bed utilization rate
Loreche also reported that private hospitals in Cebu now have only a 33.4-percent hospital bed utilization rate despite the surge in coronavirus cases.
She said these facilities still have 35.5 percent regular beds available for severe to critical Covid-19 patients.
Of the 661 allocated beds for Covid-19 patients in private hospitals, 440 are still available, 389 of them regular beds and 51 are intensive care unit beds.
Loreche reported that there are 221 admitted Covid-19 patients in private hospitals as of Monday. Of these number, 121 are asymptomatic, 93 have moderate to severe symptoms, and seven are critically ill.
She also said that public hospitals in Cebu registered a 68.4 percent capacity utilization rate as 450 allocated beds for Covid-19 patients, 142 are available.
Public hospitals here have recorded only 308 patients who are admitted for treatment due to the virus. Of this number, 159 are asymptomatic, 142 are having moderate to severe symptoms, and seven are critically ill.
"Bakit mababa ang ating (Why are we having low) bed allocation? Kasi po (This is) because we know that there are a lot of non-Covid patients using these beds in our hospitals and we cannot just discharge them and give their beds to Covid patients," Loreche said. (PNA)