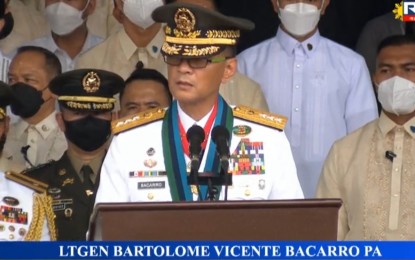 MANILA – Newly-appointed Armed Forces of the Philippines (AFP) chief Lt. Gen. Bartolome Vicente Bacarro said he will use President Ferdinand "Bongbong" Marcos Jr.'s unity platform during the May 9 presidential elections as a guide for his vision and goals for the military.
In his assumption speech in Camp Aguinaldo, Quezon City on Monday, Bacarro thanked Marcos for giving him the opportunity to take the helm of the AFP.
Bacarro also said he does not take this responsibility lightly and that he is fully aware that the challenges that would beset him.
"I would like to share my vision for the Armed Forces of the Philippines which I consider as a shared responsibility for all of us. As a memory peg, I have used the President's call for UNITY as an acronym for my own priority thrust as Chief-of-Staff of the AFP. U for unparalleled professionalism; N for noble utilization of resources; I for invigorating capability development; T for tenacity in sustaining our gains and Y for yearning for service excellence," he said.
By unparalleled professionalism, Bacarro said he was referring to the increasing approval and trust rating of the AFP where the military garnered a grade of 69 percent and 63 percent, respectively, as mentioned by his predecessor, Gen. Andres C. Centino.
Bacarro and Centino are members of the Philippine Military Academy Class of 1988.
"The Filipino people have realized that the AFP become a significant, formidable and reliable force that can respond when and where it is needed. We have proven ourselves worthy of their trust and confidence not only in combat operations but in other areas of engagement as well," he added.
Bacarro said this approval and trust were further boosted by the AFP's resilience and proper decorum amid attempts to discredit its efforts.
"Thus, let us sustain our current level of discipline and our strict adherence to the rule of law to elements that have helped us gain the respect of our countrymen. Further, let us strive to maintain if not to surpass our ability to be more effective and credible defenders of our country," he added.
In his vision for the noble utilization of resources, Bacarro said that due to the ill effects of the coronavirus disease 2019 (Covid-19) pandemic on the health, politics and economy, government resources are stretched thin in trying to resolve this.
For the AFP, he stressed that the challenge now is to "meet our objective and successfully accomplish our missions with what's allocated to us."
"The judicious use of our resources will enable us to stay mission-oriented, this raises a simple matter of economics to the level of honor, honesty and uprightness, In other words, the noble use of our resources, Over the years we have endeavored and succeeded in prioritizing and optimizing our resources, personnel, financial and logistics but I am especially keen to view time as a resource," Bacarro said.
The newly-appointed AFP chief also added that time is a highly valuable commodity, stressing that wasted time can neither be reallocated nor renewed.
"In a mission-oriented field such as the Armed Forces, time is always of the essence. Time wasted is an opportunity lost. By putting a high premium on time, we can effectively manage all our resources better. We have to develop the ability to determine emergent as well as immediate needs so that we can maximize our resources with a careful eye on the movement of the clock," he said.
For invigorating capability development, Bacarro said the AFP will align its modernization effort with its acquisition tranche.
"We will facilitate these new and upcoming capabilities in ensuring that the delivery and related process follow the dots and in the same manner we will endeavor to continue forwarding the self-reliant defense posture program to make the Armed Forces at par with nations in our region, through this, we shall be one of the many faces of national strength that our Commander-in-Chief has emphasized," he added.
Bacarro also said that attaining this minimum credible defense posture will allow the AFP to adopt more quickly and discover new techniques to help them deliver services that are geared towards attaining peace and protecting the sovereignty of the country.
And in tenacity in sustaining gains, the AFP chief said that in the last decade, the military made great strides in addressing the various external and internal threats to the Filipino people and the Philippines.
He added that these gains must not be squandered and all efforts must ensure that these are sustained.
"Moreover we will be unyielding in ending the insurgency that has plagued our people and fueled poverty in the various sectors of our society. Over the years, we have seen the value of collaboration in curing the ills of our nation," Bacarro said.
He also added that the AFP will continue strengthening its partnerships with its peace stakeholders.
"This has been specially (effective) in ending local communism and even in the battling of the coronavirus. Finally, we will put, we will pursue, targets against that has disrupted the normal and peaceful lives of our fellow Filipinos in affected areas," Bacarro said.
For the so-called yearning for service excellence, Bacarro believes that professionalism is an outward manifestation of internal discipline and that desire for excellence in service springs from a personal commitment to be the best that one can be.
"To give the best of one's ability, this yearning is internally motivated, you, every member of the Armed Forces of the Philippines must want to serve our people and our country excellently, there is no room (for) mediocre service here," he added.
Bacarro said this yearning brings to mind the principles that guided him in his military career and personal life.
"First is my personal mantra, do common things and commonly well. Routinary things may seem inconsequential and ordinary, it is easy to get into the habit of thinking that day-to-day activities do not make much of a difference in accomplishing our higher goals as members of the AFP," he added. (PNA)