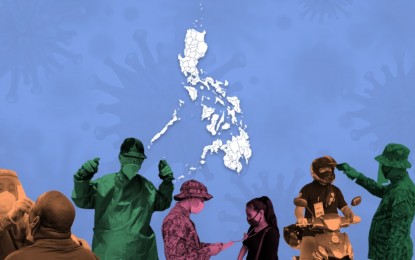 MANILA – The country has recorded 95 new cases of the coronavirus disease 2019 (Covid-19), the lowest tally in the past four months.
Over Twitter on Tuesday night, OCTA Research Group fellow Dr. Guido David reported that the figure brought the total Covid-19 cases to 4,160,455 nationwide, with 3,449 active cases.
This is the first time the daily count has dropped to less than 100 since March 20 this year.
Twenty of the new cases came from the National Capital Region.
"The country's seven-day positivity rate is 3.3 percent. Projecting 100 to 150 new cases on the next day August 9, 2023," David said.
The country also recorded 14 new deaths and 190 new recoveries.
To date, total Covid-19 deaths stand at 66,640 and recoveries at 4,090,365 nationwide.
At least 78,443,972 or 100.4 percent of the country's target population (78,100,578) have been vaccinated against Covid-19, including 82.16 percent of 8,721,357 senior citizens, as of March 19.
A total of 23,811,248 have received booster shots out of the fully vaccinated population.
Last week, Health Secretary Teodoro Herbosa said the immuno-compromised and the general public could already receive bivalent vaccines as a third booster dose.
This was after only 38 percent of the 391,000 donated doses allotted for health care workers and senior citizens have been used. (PNA)