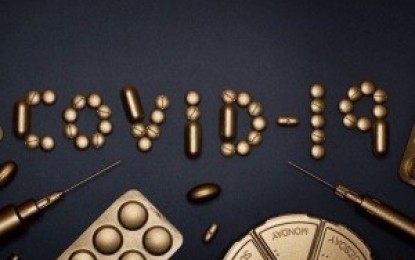 MANILA – The country's positivity rate or the number of people testing positive for the coronavirus disease 2019 (Covid-19) went down to 3.3 percent as of Aug. 16.
Over Twitter on Thursday, OCTA Research Group fellow Dr. Guido David said the figure was a slight decrease from the 3.4 positivity rate during the week ending Aug. 9.
"The Department of Health (DOH) reported 96 new cases, five deaths, 134 recoveries. About 28 of the new cases are from the National Capital Region, projecting 100 to 150 new cases on Aug. 17," he said.
The country's overall tally of Covid-19 infections has reached 4,108,648 with 3,048 active cases.
A total of 66,654 individuals have died of the disease.
At least 78.4 million or 100.4 percent of the country's target population (78.1 million) have been vaccinated against Covid-19 as of March 19.
A total of 23,811,248 have received booster shots out of the fully vaccinated population.
On Tuesday, the DOH said 69 percent or 269,000 doses of the 390,000 donated doses of bivalent vaccines against Covid-19 have been administered to the healthcare workers, senior citizens and the immunocompromised as of Aug. 14. (PNA)