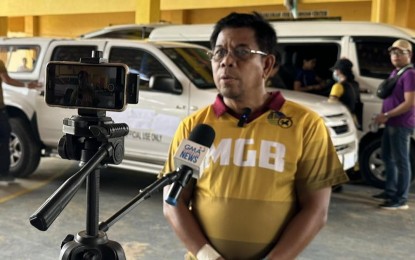 LEGAZPI CITY – The Mines and Geosciences Bureau (MGB) of the Department of Environment and Natural Resources (DENR) is to file this week a criminal case against a mining company in Camarines Norte for alleged continued defiance of a cease and desist order issued last June 9.
MGB-Bicol Regional Director Guillermo Molina Jr. said in an interview on Tuesday that Rolando Siguenza, the reported owner of a small-scale mining site and mineral processing plant in Barangay Luklukan Sur Jose Panganiban town violated provisions of Republic Act (RA) 7076 otherwise known as the People's Small-Scale Mining Act of 1991.
Before this, Molina said they found out that Siguenza was extracting minerals without the necessary government permit.
"The filing of appropriate charges against mining firms violating the existing mining law is an important step to promote responsible mining," he said.
Molina said they secured a search warrant from Regional Trial Court (RTC) Branch 5 in Daet last Aug. 29, allowing them to raid the mining site.
He added that Bicol's Regional Anti-illegal Logging Task Force composed of DENR, the Philippine Drug Enforcement Agency (PDEA), the Philippine National Police (PNP), the Philippine Coast Guard, Naval Forces Southern Luzon and the MGB Tactical Operations Group carried out an inter-agency operation on Sept. 4, where they confiscated some mining equipment and other paraphernalia being used in the allegedly unsafe mining activities in the area.
Molina said they would not tolerate unsafe mining practices as these would not only pose threats to the miners in particular, but to the environment in general.
"We will not tolerate activities that would destroy our environment," Molina said. (PNA)