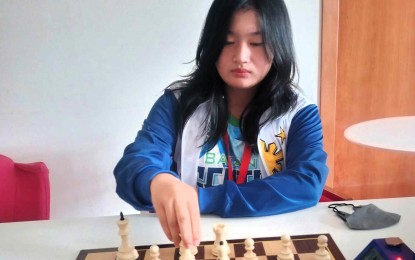 MANILA – Jirah Floravie Cutiyog notched her second victory on Tuesday to gain a share of the lead in the girls U14 category of the FIDE World Youth Chess Championships in Italy.
The 14-year-old Cutiyog defeated Zuzanna Gaszka of Poland in 42 moves of the Caro-Kann Defense, Advance variation in the competition at the Pala Dean Martin Centro Congressi in Montesilvano City.
"I really feel good about my game," said Cutiyog, who will face Candidate Master Bozhena Piddubna of Ukraine in the third round.
"Naalagaan ko yung isang pawn na lamang matapos siyang magsakripisyo sa opening (I took care of my one-pawn advantage after he sacrificed in the opening)," added the Grade 9 student at Bethel Academy.
"Pumasok sa preparation natin. Linya sa chess 'yan na ginagamit ni Filipino Wesley So (It's included in our preparation. That chess line is being used by Filipino Wesley So)," General Trias City Chess Club president and coach Ederwin Estavillo said after the match.
In the boys division, FIDE Master Mark Jay Bacojo downed FIDE Master Tymon Ochedzan of Poland in 63 moves of Sicilian defense, Alapin variation, for his second victory in the U18 category.
"Mahirap 'yung position, mabuti nakuha sa tiyaga (The position was difficult, good thing I got it through perseverance)," said Bacojo, playing under the guidance of Dasmariñas Mayor Jenny Barzaga, Rep. Elpidio "Pidi" Barzaga Jr. and national coach FIDE Master Roel Abelgas.
Other second-round winners were National Master Oscar Joseph Cantela over Italian Alessandro Gallina (boys U16) and Woman National Master Bonjoure Fille Suyamin over American Saadhika Bagley (girls U14).
FIDE Master Christian Gian Karlo Arca settled for a draw with FIDE Master Gustas Morkunas of Lithuania in 58 moves of Caro-Kann Defense Exchange variation to earn 1.5 points in the boys U14 category.
Arca wrested the lead after 25 moves but he failed to win the match after the Lithuanian played solidly.
Meanwhile, Woman National Master Kaye Lalaine Regidor (U16) and Woman National Master Franchesca Largo (U18) absorbed their first loss in two outings.
Regidor bowed to Mongolian Woman FIDE Master Erdenebayar Khuslen in 44 moves of Sicilian Defense, Alapin variation, while Largo surrendered to Slovakian Jana Sosovickova in 42 moves of the English Opening.
In other U14 matches, Anica Shey Dimatangihan fell to Armenian Ani Avetisyan of Armenia and Maureiin Lepaopao lost to Samyukta Sivashankar of Luxembourg in the girls division, while Mark Gabriel Usman was beaten by Miraziz Kuziev of Uzbekistan in the boys division.
Charly Jhon Yamson had a second-round bye in the boys U14 category.
The Philippine team, also coached by Arena Grandmaster Almario Marlon Quiroz Bernardino Jr. and Woman FIDE Master Shania Mae Mendoza, is supported by the Philippine Amusement and Gaming Corporation, Cavite Vice Governor Athena Bryana Delgado Tolentino, General Trias City Mayor Luis "Jon Jon" Ferrer IV, Vice Mayor Jonas Glyn Porto Labuguen and Sports Development Office OIC Jon Jon Comandante, National Chess Federation of of the Philippines Chairman/President, Rep. Prospero "Butch" Pichay Jr. and CEO Grandmaster Jayson Gonzales, and Philippine Olympic Committee President and Tagaytay City Mayor Abraham "Bambol" Tolentino. (PNA)